Pizza Hut Presents

Pizza Pursuit!

Play Pizza Pursuit between December 1 – 31, 2021 for your chance to win epic prizes!
We are now offering contact-less delivery to keep everyone healthy. Contact-less orders will need to be paid online by credit card.
Learn More
Are you ready to win?
Here's everything you need to know.
How to play
Scan QR code on receipt, medium box, Triple Treat Box, box topper.
Enter PIN on receipt or box topper.
For online orders, click banner in confirmation email to play.
Play to win!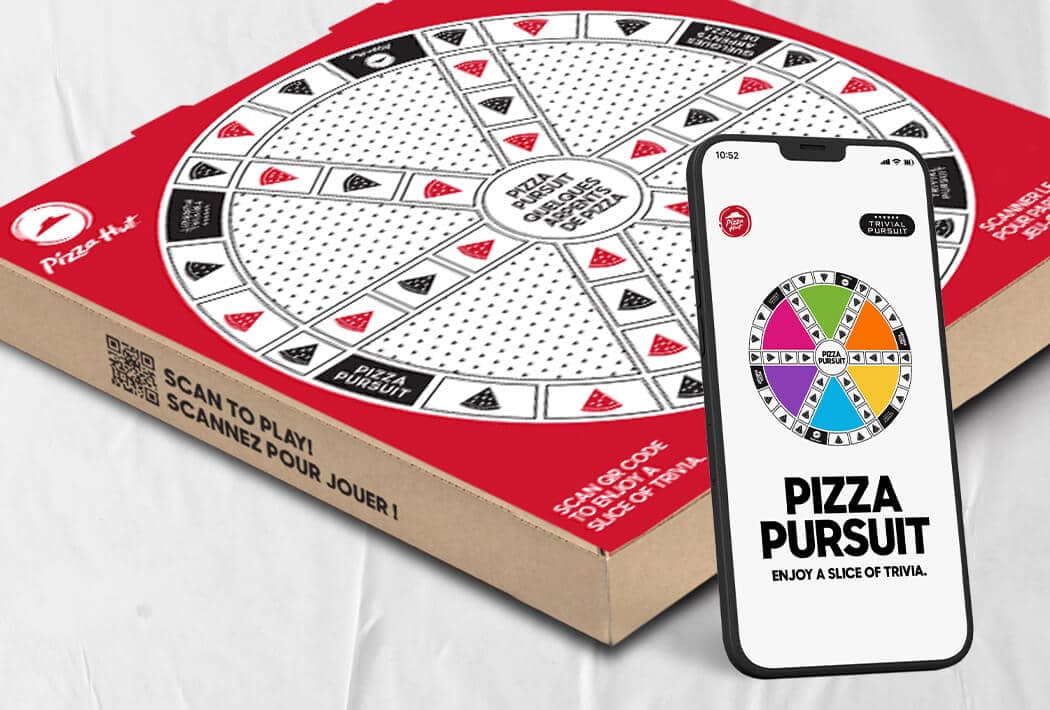 Prizes
An email with a coupon code for your prize will be sent to you. Redeem your prize at www.pizzahut.ca. Plus chance to win $12,000 CAD or a Vespa Primavera 50!
PIZZA PURSUIT
FAQ's
Click

here

for Terms and Conditions.
Can I play the game with other people?

Yes! Once you've determined who your host is in your group, the host can share the room code with you. Find your room code at the top of the lobby screen within the game and have all players join the game.

How do I play without making a purchase?

To enter without purchase, submit a mail-in request in writing. Hand-print your full name, full mailing address, email address, phone number, and birth date on a plain 3x5 inch piece of paper. Mail your completed entry to 191 Creditview Rd #100, Woodbridge, ON L4L 9T1. Each entry must be mailed separately in a hand-addressed, stamped envelope. No photocopied or mechanically reproduced entries will be accepted.

Is there a limit to how many times I can play Pizza Pursuit?

Nope! You'll just need a new PIN each time you play as PINS can only be used once.

Where do I find my PIN?

You can find your PIN on your order receipt, box topper or confirmation email (if you ordered online).

I ordered my pizza through a food delivery app. Will I still be able to play Pizza Pursuit?

Yes! If you ordered a medium pizza, Triple Treat Box or received a box topper or receipt with your order- scan the QR code on any of these items , enter your PIN and play.

None of the items in my order have a QR code. How do I play?

You can access the game here. Enter your PIN and play!

How will I know if I won a prize?

You will be notified if you win during the game. At the end of the game, you'll see a list of all the prizes you won. You will receive confirmation via email on how to redeem your prize(s).

How do I claim my prize?

Prizes are emailed to the player after filling in an email address within the game.

Can coupon prizes be redeemed in store?

All coupons are redeemable online only.

Is there a limit on how many prizes I can redeem in a transaction?

Yes. Only one redemption per order is permitted.

How long do I have to redeem my prizes?

All prizes are redeemable up until January 31, 2022.

When will the grand prize be announced?

The grand prize winners will be announced on January 31, 2022.
TERMS AND CONDITIONS
T&C's
NO PURCHASE NECESSARY. Open to legal residents of Canada that are 16 years of age and older at the start of the Contest period. Odds of winning depend on total number of entries received during the Contest Period. Play Pizza Pursuit for a chance to enter into an international grand prize draw for 1 of 2 cash prizes with an approximate retail value of $12,000 CAD (cash prize is based on $10,000 USD at the current exchange rate at time prize is awarded), and a chance to enter an exclusive grand prize draw open to Canadian Residents for 1 Vespa 2021 Primavera 50 (RED) Edition motorized scooter with an approximate retail value of $5294.00 CAD, and a chance to win one of 107,000 coupons for select menu items at https://www.pizzahut.ca each with approximate retail value of between $2.00 CAD and $18.00 CAD, while supplies last. The total approximate retail value of the prizes exclusive to Canada is $562,594.00 CAD, for a total of $586,594.00 CAD including the international grand prizes. Contest begins December 1, 2021 at 12:01am local time and ends January 30, 2022 at 11:59pm local time. Void where prohibited by law. Full Contest terms and conditions available here.

© 2021 Pizza Hut International. All rights reserved.
Disclaimer (pricing, availability, nutrition licenses)
®Reg. TM/MD Pizza Hut International LLC; Used under license. © 2022 PH Canada Company. All rights reserved.
This site is protected by reCAPTCHA and the Google Privacy Policy and Terms of Service apply.